The following video shows how we try to turn around the hull. Much time is needed to discuss how the job is to be done and meanwhile the crane almost falls down. But in the end everything is done very well!

Loading the player ...



A new basement has been built. It is designed like a cradle. The hull can be leaned to one side so that there is no ladder or staircase needed any longer. This will accelerate the ongoing work.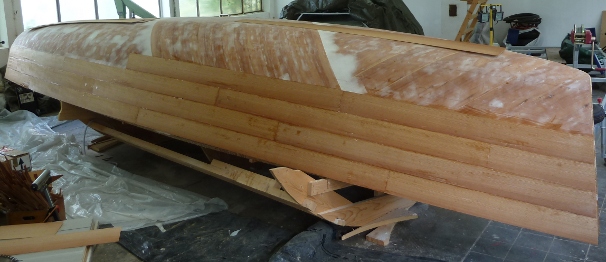 The last layer of veneers is going to be completed. In the middle a belt-like area can be seen - in this area there are five layers of veneer, behind and in the front there will be four layers when the hull is completed.
After having been busy four years for building the boat there must be something already completed: A small boat for our child to play with in summer time...
The little boat at the beach of croatia. With a slight breeze its speed is already respectable. A center board of aluminium allows sailing into the wind. A swimmer has to make an effort to keep up with the boat.
Thousands of staples have to be removed out of the wood.
The boat on its craddle-like basement at late night after having finished the work for today. The hull seems to be completed - but there are still some veneers left - see the following images.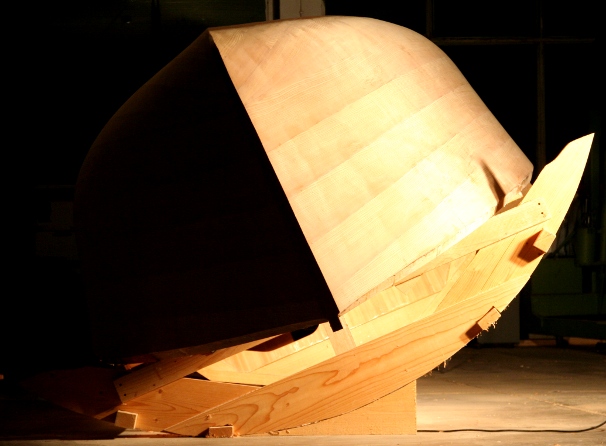 The shoulder plane is fitting best for this task: trimming the veneers to fit exactly.
The area below the drawing waterline is coated by a layer of glass and serveral layers of epoxi. The coating is limited to the area below dwl because above dwl another sort of epoxi will be used: Above dwl a more UV-resistant and more expensive hardener will be used. The bright spots are caused by relections of the lamps in the ceiling.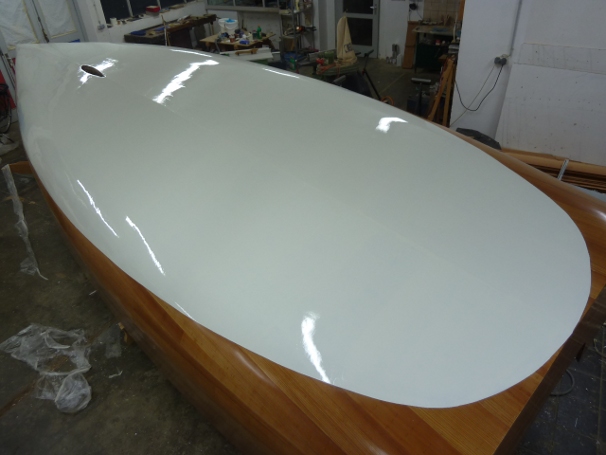 The three pictures above show the hull after coating is finished. About five layers of epoxi, later two layers of PU-varnish after having sanded and polished
serveral times

the surface
.
Turning around the hull may be turn out to be tricky if the ceiling is quite low...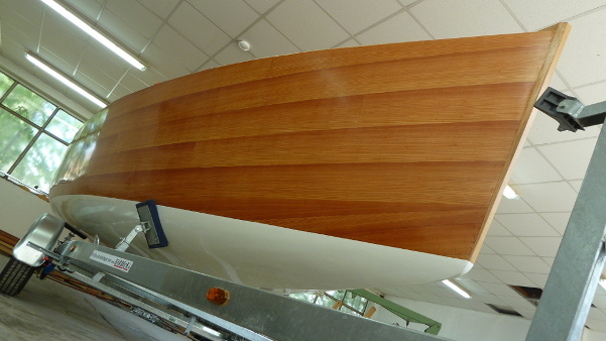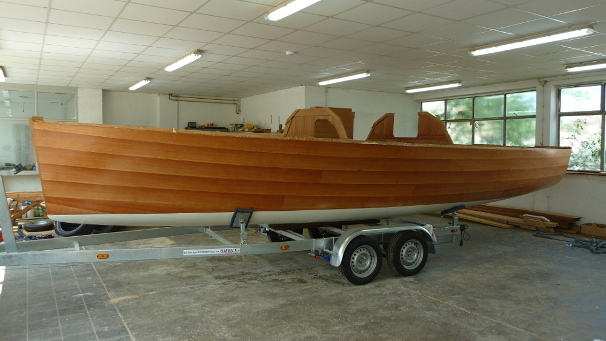 This is the result after seven years of building the boat.